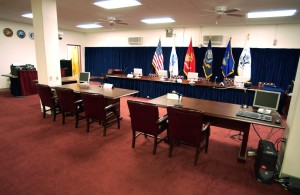 Enlisted service members go to administrative separation boards (adsep boards for short).   Officers have "show cause proceedings," also known as a Board of Inquiry (BOI for short).  There is a stark difference between enlisted and officer boards – a vote for retention, regardless of the misconduct, for an officer is binding on the military.  For enlisted, a vote of retention is merely a recommendation subject to reversal, normally by the first flag officer in the chain of command.
Apparently the Chief of Naval Operations (CNO) is not happy with the retention rate at Boards of Inquiry.
On June 22, 2017, the CNO sent a message to all Commanding Officers and Commanders.  It was not an ALNAV or a NAVADMIN available to entire Navy.  It was sent exclusively to those in command – senior officers.  The message is titled "PERSONAL FOR – OFFICER BOARD OF INQUIRY MEMBER RESPONSIBILITIES AND CONSIDERATIONS."  It provides that the "Show Cause Authority will ensure that each board member receives a copy of this guidance before the board convenes.  This guidance is not evidence."  The message, following a disclaimer that the officer is entitled to a fair and impartial hearing, then goes on the offensive – "When an officer has committed misconduct, or otherwise satisfies one of the bases for separation . . . , board members should carefully consider the individuals suitability for continued service."  For anyone that can read between the lines, the message is clear – BOI members have been too soft on fellow officers and have retained too many.  The message then lists criteria that the board members should consider during there deliberations at the BOI.  Here is the full message.
Unfortunately, it appears that the CNO did not watch the Commandant of the Marine Corps' debacle with the "Heritage Brief" (news article about the brief here). Because he will soon, I predict, find himself with a floury of allegations of unlawful command influence at Boards of Inquiry.  Moreover, though he is the CNO, officer separations and Boards of Inquiry are strictly the province of the Secretary of the Navy.  SECNAVINST 1920.6 covers officer separations – not an OPNAVINST issued by the CNO.  The CNO has now meddled with providing guidance in the form of a message to a select few senior officers giving guidance to board members of a BOI that is outside of the guidance provided by SECNAVINST 1920.6!
I want to make clear that I don't necessarily think there is anything wrong with the message the CNO is trying to send.
Command influence is perfectly lawful – it's called leadership and it's the CNO's responsibility to put forth his philosophy on officer misconduct.
When speaking to officers, he can state, for example, "that officers should be held to a high standard because the responsibility of leadership demands as much and officer misconduct should result in that officer being closely scrutinized for continued service."  Same message, right?  He can give this talk at every base and ship he visits.  He can put it in a message.  What he cannot do is surreptitiously target BOI members and Show Cause Authorities and provide guidance in official proceedings that is outside the guidance in the law that governs those proceedings.
Attorney Patrick Korody has earned the reputation as one of the best civilian military lawyers.  He specialized in military justice while on active duty as a Navy JAG.  He represents officers around the world facing allegations of misconduct.  He has represented officers alleged to have committed battlefield errors, hazarded vessels, and the spectrum of personal misconduct.  He offers a free consultation and can be reached at 904.383.7261.