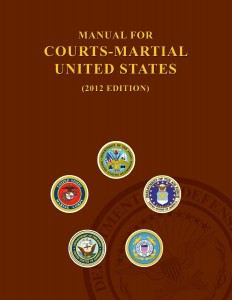 Nonjudicial punishment (NJP) is based on Article 15 of the Uniform Code of Military Justice (UCMJ) and is governed by Part V of the Manual For Courts-Martial (MCM) and service regulations.  The services sometimes call it different names- The Navy and Coast Guard call it "Captain's Mast" because the member normally appears in front of the Captain.  The Marine Corps calls it "Office Hours" because the member normally goes to the commander's office.  Regardless of what your unit calls it, a NJP can have serious consequences on your pay, ability to promote, and ultimately your career.
When NJP was written into law, it was to be used as a tool to discipline members for minor misconduct and provide members an opportunity to rehabilitate and continue serving in the military.  Unfortunately, commanders often use this tool strictly for discipline, including for major offenses, and do not make efforts to rehabilitate the member.
LOSS OF PAY.  LOSS OF RANK.   RESTRICTION. 
NJP can result in loss of rank, pay, restriction, and punitive letters.  For the sea services underway (Navy, Coast Guard, and embarked Marines), it may result in confinement and a diet of bread and water.
NJP is not a trial and the member has limited rights to review evidence, present a case, and appeal.  If attached to or embarked on a vessel, the member may not have the right to refuse NJP.
Korody Law provides the follow legal services with respect to NJP:
Consultation regarding the decision to accept or refuse NJP and demand trial by court-martial
Preparation to present a defense at NJP proceedings
Representation at NJP proceedings
NJP appeals (generally must be filed within 5 business days)
Requests to set aside NJP
If you are facing NJP for misconduct including unauthorized absence, drug use, positive urinalysis, theft, disrespect, orders violations, sexual harassment, or fraternization, contact Korody Law for a free consultation before  you make any decisions regarding you rights at NJP.