Despite all of the reliability issues at military drug labs over the years, the careers of otherwise honorably serving members of the Navy, Marine Corps, Army, Air Force, and Coast Guard are ended every day based on positive urinalysis results.  The characterization of service for most of these involuntary separated "due to drug abuse" members is Other Than Honorable (OTH), especially if they don't have a skilled attorney defending them.  I have defended hundreds of members charged with drug abuse based on a positive urinalysis at non-judicial punishment, court-martial, administrative separation boards, and boards of inquiry.  In many cases, I have had the sample re-tested or done separate drug testing.  Here is some advice on the options for additional testing when faced with a positive urinalysis.
Disclaimer:  A service member should not seek any testing without legal advice.
Retesting By The Drug Lab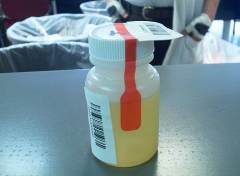 The service member can request, through his or her chain of command, that the military drug laboratory re-test the sample.  I rarely recommend this option because it is not a confidential test and, second, in my experience, it always comes back with the same result.  Keep in mind that if it came back with a different result, the drug lab would have to report out that it initially reported a false positive.
Retesting By An Independent Lab

The military drug labs will send a portion of the sample to an independent laboratory chosen by the service member for re-testing at the service member's expense.  Many of these independent laboratories can not only retest for the identified drug but can also do a DNA test to ensure that the urine has not been contaminated and does belomg to the service member.  Depending on specific allegation of drug abuse, this may a good option for the service member.  The member must make sure the laboratory understands the testing is for the member and the results should only be provided to the member or his or her attorney.
Hair Testing

A hair drug test is very easy to obtain and normally costs less than $100.  An online search will identify local Quest Diagnostics, Anytime Labs, and similar establishments who will collect and process the test.  A hair test is conducted by grinding the hair with a sterile liquid and then testing the liquid.
The detection window for urine is a few days for most drugs.  The detection window for hair is generally much longer – sometimes up to 90 days.  However, hair testing is much less sensitive than a urine test and a negative hair test does necessarily refute a positive military urinalysis.   Hair testing normally does not give a quantitative result.  Still, a negative hair test is some evidence that the urinalysis result is false and is evidence that the service member is not a chronic user, supporting an innocent/unknowing ingestion defense.  Best, the test is confidential and so the positive results don't matter one bit!  The service member should NOT use a military ID when going to get the test, and not ask for a military discount or try to bill Tricare!
Testing Edibles for Innocent or Unknowing Ingestion Defense

I have had great success in testing edible items and liquids for illegal substances to support defenses of unknowing and/or innocent ingestion.  For example, I have found a poppy seed cake with a high level of codeine.   I have found prescription drugs in a cocktail drink.  I have found marijuana in cookies.  In these cases, the testing is but one piece of the defense – a chain of custody of the item must be established and/or evidence establishing the authenticity of the item tested.   The evidence must show that the item tested was the one innocently or unknowingly ingested by the service member.  Additionally, food items are very hard to test so the laboratory doing the testing must be chosen carefully.
Polygraphs
I often have military members ask if they should go take a polygraph.  My response is that it can't hurt, so long as it is done confidentially.  Polygraphs cost $400-$600 in my experience.  They, like many of the options discussed in this post, are only one piece a strong defense to a positive military urinalysis.  A polygraph is generally not admissible at a court-martial.   Moreover, the right questions need to be asked to make it helpful.  A skilled military defense attorney can draft the questions to make them helpful to the defense strategy.  For example, if the defense is located around innocent ingestion, then the questions should relate to that theory and the specific circumstances of the case.
With the exception of a negative retest by the military drug lab, none of the options discussed in this post will automatically result in the positive urinalysis being unsubstantiated.   Rather, each may be a piece to a complex, comprehensive defense strategy.  Service members should speak to a lawyer before pursuing any independent testing or a polygraph.
Attorney Patrick Korody is a former Navy Judge Advocate who was certified by the Judge Advocate General as a Specialist in Military Justice.  He defends members of the military worldwide and has successfully defended service members facing allegations of drug abuse and wrongful drug use at NJP, court-martial, and administrative separation boards.  His offices are located in Jacksonville, Florida.