Korody Law has handled dozens of security clearances from San Diego, California to Washington, DC to Key West, Florida to Pensacola, Florida.  We pride ourselves on being Florida's top security clearance law firm.  We are a local Florida law firm.  Mr. Korody started his law practice in Jacksonville, Florida after leaving active duty in the United States Navy Judge Advocate Generals (JAG) Corps.  Our security clearance law practice focuses primarily on Department of Defense contractors, civil service employees, and members of the active and reserve components across all the services and the national guard.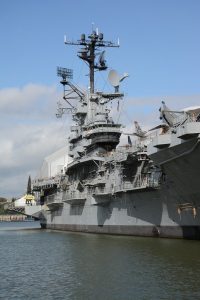 Korody Law is Florida's top security clearance law firm. He has successfully represented Department of Defense contractors, active and reserve component members, and national guard members facing security clearance denials or revocations. He has numerous published security clearance decisions where he has won before Department of Hearing and Appeals security clearance judges.
Korody Law is Florida's top security law firm. We have successfully defended our clients who received Statement of Reasons for:
(1) GUIDELINE A: Allegiance to the United States
(2) GUIDELINE B: Foreign Influence
(3) GUIDELINE C: Foreign Preference
(4) GUIDELINE D: Sexual Behavior
(5) GUIDELINE E: Personal Conduct
(6) GUIDELINE F: Financial Considerations
(7) GUIDELINE G: Alcohol Consumption
(8) GUIDELINE H: Drug Involvement and Substance Misuse
(9) GUIDELINE I: Psychological Conditions
(10) GUIDELINE J: Criminal Conduct
(11) GUIDELINE K: Handling Protected Information
(12) GUIDELINE L: Outside Activities
(13) GUIDELINE M: Use of Information Technology
What makes Korody Law Firm Florida's top clearance law firm?
A Google search will yield all types of law firms soliciting your security clearance case. Most of them won't even have offices in Florida. Many of them have no prior military or Department of Defense experience. In many, your case will entirely be handled by a paralegal despite you paying a significant fee so you could have an attorney!
In 2009, Patrick Korody went to his commanding officer and asked for permission to take on a security clearance case for an active-duty Sailor that Mr. Korody had successfully defended for sexual assault at a court-martial.  Mr. Korody knew that the complaining witness had lied and demonstrated as much at the court-martial; yet the Sailor had received a Statement of Reasons several months after the acquittal citing the NCIS investigation into the sexual assault as the basis to revoke the Sailor's clearance.  Like all security clearance cases, a loss of his clearance would have been this Sailor have lost his career.  Quietly, Mr. Korody's commanding officer approved his request, telling him that there was no right to a JAG at such a hearing but that he – like Mr. Korody – was not going to see this Sailor lose his clearance after our successful defense at court-martial.  Mr. Korody successfully litigated his first security clearance case a few months later.  He even received a personal note from the security clearance judge after the case was decided thanking him for his preparation and advocacy and noting that without his assistance the Sailor surely would have had his clearance revoked.  Ten years later, Mr. Korody's reputation as an extremely competent security clearance lawyer is known throughout the DOHA judges and his opposing DoD counsel.
Like a "national" security clearance law firm, we handle cases across the country.  We have handled security clearance cases in California, Hawaii, Washington, DC, and other places.  However, the bulk of our clients come from Florida.  They come to our office.  We meet in person.  Mr. Korody and his team are also uniquely familiar with the military installations in Florida and the Florida National Guard.  We know what operations are performed at Naval Submarine Base Kings Bay just across the Florida line in Georgia and what it means to have "lower base access."  We know about the work being performed at MacDill Air Force Base in Tampa in support of CENTCOM.  We know about the important work being done by Northrop in Melbourne.  We understand that flight line access at air stations like NAS Jacksonville, NS Mayport, and NAS Key West.  At the end of the day, Florida is our backyard. 
Korody Law is Florida's top security clearance law firm.  We understand your security clearance means your career and reputation.  We more than a decade of proven security clearance defense experience, earning a national reputation for success, particularly in winning security clearance cases before DOHA judges.  No matter the severity of the Statement of Reasons you face, our security clearance lawyers have the skill, tenacity, and matchless insight to help you.  We have helped our clients obtain security clearances even in the most difficult cases.
Security Clearance Statement of Reasons?